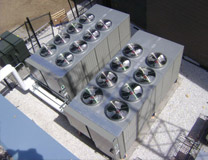 Our firm provided Mechanical, Electrical, Plumbing, and Fire Protection Engineering for the City of Bridgeport.
Salamone & Associates, P.C., has been providing all aspects of engineering services for various clients including municipalities, federal agencies, housing authorities, educational facilities, commercial facilities, and others. These services have been offered for over 25 years and our clients continue to grow, while maintaining professional relationships with clients since our inception.
Salamone & Associates, P.C. provide services for projects that vary in size and complexity. For example, our firm has been involved in the design of new facilities with construction values of over $20 million. However; our firm is founded on the premise of responding to all client needs, regardless of the effort involved.
Salamone & Associates, P.C. is unique in that our organization can provide all aspects of engineering services and yet still emphasize that a principal be directly involved in any project undertaken by the firm. As with any organization, we recognize that our ability to meet Client expectations is a function of the experience of our staff. Our primary emphasis and philosophy is to provide quality professional services and to respond to the needs of our Clients. This criterion forms the basis for the operation of the firm.